According to Nielsen's report on the US mobile market in February 2012, smartphone usage is growing and 49.7% of mobile subscribers now own a smartphone. This represents a 38% jump over last year's 36%.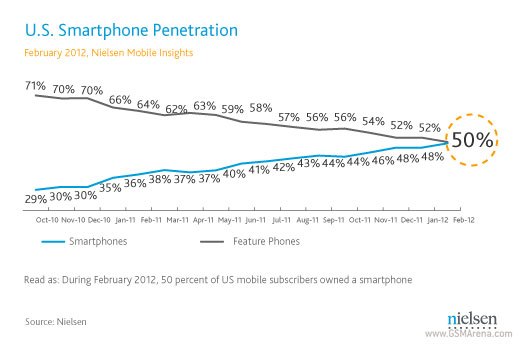 The growth of the smartphone sector is hardly news for anyone now, but the rate is really increasing. Over the last three months two thirds of all cellphones purchased were smartphones.
Unsurprisingly, Android devices continue to lead in the mobile OS distribution with 48%. Not far behind is Apple's iOS with 32.1% of subscribers owning an iPhone. RIM's faltering BlackBerry OS only managed a distant third place with a market share of 11.6%.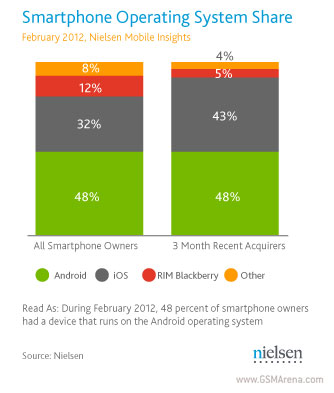 The report notes that Android is also the leader among new acquirers, but things are much closer there. 48% of people who got a smartphone in the past three months went for one powered by the Google OS, while 43% chose an iPhone. RIM's performance is even worse here - 5% market share, while the rest of the platforms combined managed the measly 4%.