There's no need for us to tell you the importance of the Samsung I9300 Galaxy S III for both its own manufacturer and the Android world in general - our daily interest stats speak for themselves. Its predecessor was really something special and what everyone wants to know now is whether or not the new Samsung flagship has what it takes to fill its boots.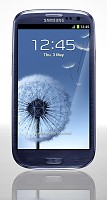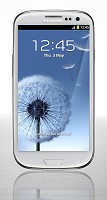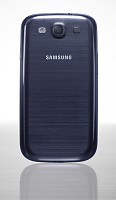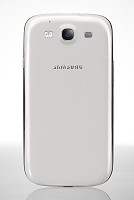 Samsung Galaxy SIII official shots
The Samsung I9300 Galaxy S III seems to bring all the latest and greatest technology in the mobile world under one roof. The quad-core CPU and the HD screen are taking most of the glory here, but the S III has quite a lot more to offer, as you can see from the list below.
Samsung I9300 Galaxy S III at a glance:
General: GSM 850/900/1800/1900 MHz, UMTS 850/900/1900/2100 MHz, HSDPA 21 Mbps, HSUPA 5.76 Mbps
Form factor: Touchscreen bar phone
Dimensions: 136.6 x 70.6 x 8.6 mm, 133 g
Display: 4.8" 16M-color HD (720 x 1280 pixels) Super AMOLED capacitive touchscreen, Gorilla Glass 2
Chipset: Exynos 4212 Quad
CPU: Quad-core ARM Cortex-A9 1.4 GHz processor
GPU: Mali-400MP
RAM: 1GB
OS: Android 4.0.4 (Ice Cream Sandwich) Memory: 16/32/64GB storage, microSD card slot
Camera: 8 megapixel auto-focus camera with backlit sensor, face detection, touch focus and image stabilization; Full HD (1080p) video recording at 30fps, LED flash, 2MP front facing camera, video-calls
Connectivity: Wi-Fi a/b/g/n, Wi-Fi hotspot, Bluetooth 4.0, standard microUSB port, GPS receiver with A-GPS, 3.5mm audio jack, FM radio, TV-out, USB-on-the-go, NFC Battery: 2100 mAh
Misc: TouchWiz 4.0 UI, Extremely rich video/audio codec support, built-in accelerometer, multi-touch input, proximity sensor, gyroscope sensor, RGB sensor, Smart stay eye-tracking, S Voice natural language commands and dictation
A lengthy list for sure and pretty great for the most part. In addition to plenty of extra screen estate, resolution and processing power, the Samsung I9300 Galaxy S III brings a new, much larger battery, the futuristic sounding eye-tracking technology, and also hides several cool software tricks up its sleeve.
In fact, of all the rumored goodies, the non-PenTile screen and the 12 megapixel camera are the only ones which didn't make the cut, but we are not even sure you should feel too sorry about that. The subpixel density is still on par with what the S II offered, while the camera got a whole new sensor, thus it might still turn out to be a nice upgrade.




Samsung I9300 Galaxy S III in our office
Just looking at the specs sheet should be enough to convince you that the Samsung I9300 Galaxy S III is a good phone. But good is certainly not enough when you are succeeding the most popular Android smartphone to date and competing with the beast that is the HTC One X. The S III needs to be great, but we'll only know if it actually is when we spend some more time with it.
Samsung I9300 Galaxy S III 360-degree spin
At 136.6 x 70.6 x 8.6 mm, the Samsung I9300 Galaxy S III is certainly not the most compact smartphone around, but you could hardly expect anything better with a 4.8" screen. In fact Samsung engineers have to be commended on fitting such huge display, while making the S III just 4.5mm wider and just over a centimeter longer than its predecessor.
The Samsung Galaxy S III isn't too heavy either - 133g sound more than acceptable given its size and while it certainly won't let you forget that it's in your pocket, it won't tear a hole in it either.
Design and build quality
The design of the Samsung I9300 Galaxy S III is one of the most controversial bits about the new Samsung flagship. Built entirely out of glossy plastic, the Galaxy S III takes after the Nexus lineup design lines, rather than those of its predecessor, the S II.
The glossy material is a questionable choice as it really lacks the high-end vibe that a smartphone such as the Galaxy S III should pack. The good news is that the Samsung Hyperglaze coating partially makes up for that, improving both the feel and the handling of the device.




Samsung Galaxy S III sized up against the Samsung Galaxy S II and the Samsung Galaxy Nexus
Hyperglaze basically means that there's another, see-though layer of plastic on top of the back panel - similar to what we saw on the Meizu MX. This layer helps mask some of the fingerprints and is actually decently grippy, so it's probably the best bit about the S III back.
Overall, we wouldn't call the Galaxy S III ugly. We also certainly feel that claims about it looking no better than Samsung's entry-level phones exaggerated. However, we can't shake off the feeling that a flagship device deserved better either - some higher quality plastic ala Galaxy S II or even a polycarbonate unibody along the lines of HTC One X or Nokia N9 would have suited a flagship smartphone much better.
The good news is that even if the design is far from perfect, few people will actually be looking at it too closely. Who will waste time looking at the back of the I9300, when there is a screen as gorgeous as this at its front?
The 4.8" Super AMOLED of HD resolution at the front is where the Samsung I9300 Galaxy S III magic happens. The screen image quality is every bit as impressive as its specs suggest - tack sharp and with perfectly deep blacks, it's arguably the best you can find on the market.
The colors are nicely saturated by default, but the display settings menu offers you a choice between four different modes, so you can opt for more natural colors as well. We did prefer the livelier dynamic and standard modes, but the natural and movie modes will probably have their fans too. What's important here is that the S III display offers you flexibility that no other screen on the market can give you.
Sunlight legibility is splendid too - the HD Super AMOLED isn't the brightest around, but its reflectivity is so low that even when outside in the brightest day, you'll still be able to make out what's on the screen quite clearly. The viewing angles are wide too - there's some color shift when you reach the extremes, but the icons and text remain almost perfectly clear, giving that printed look that we love so much.
And here's how the Samsung I9300 Galaxy S III did in our dedicated display test. You can learn more about the testing process over here.
Display test
50% brightness
100% brightness
Black, cd/m2
White, cd/m2
Contrast ratio
Black, cd/m2
White, cd/m2
Contrast ratio
Samsung I9300 Galaxy S III
0
174
∞
0
330
∞
HTC One X
0.15
200
1375
0.39
550
1410
Samsung Galaxy Nexus
0
112
∞
0
247
∞
Motorola RAZR XT910
0
215
∞
0
361
∞
Samsung I9100 Galaxy S II
0
231
∞
0
362
∞
HTC One S
0
177
∞
0
386
∞
Samsung Galaxy Note
0
287
∞
0
429
∞
HTC Sensation XE
0.23
172
761
0.64
484
752
Sony Xperia S
-
-
-
0.48
495
1038
Below the display you get the same three keys as on the international version of the Galaxy S II - capacitive Menu and Back buttons and a regular press Home key.


The home, settings and back keys located below the screen
The usual extra functionality upon a long press is enabled - the Menu key handles Google search on the device, while the Home key brings up the task switcher. And if you click the home key twice the voice control gets activated.
Above the display we have the earpiece, as well as ambient light and proximity sensors. There's also a 2 megapixel front-facing camera for video-calls and a LED status light up there.


There's quite a lot going on above the display
The left side of the Samsung I9300 Galaxy S III features the volume rocker.



The volume rocker
Unfortunately, all there is on the right is the power key. Once again Samsung is releasing its flagship droid without a dedicated camera key.



The power key is all you find on the right
The top of the Galaxy S III hosts the unprotected 3.5mm audio jack.



The 3.5mm audio jack is next to one of the micrphones at the top
The microUSB port at the bottom is used for both data connections and charging. Not only does it support USB host but it also comes with MHL enabling HD TV-out connectivity. You'll have to purchase an adapter to use that extra functionality, though. The other thing of interest here is the mouthpiece.
The back of the Samsung I9300 Galaxy S III is where the 8 megapixel FullHD-capable camera lens is located. It's flanked by an LED flash and the loudspeaker grille.



The microUSB port is alongside the main microphone at the bottom
Removing the paper thin battery cover reveals the microSIM slot, the pretty large 2100 mAh battery and the microSD card slot.


Taking a peek under the battery cover

User interface
The Samsung Galaxy S III runs on the latest Android available at the moment - 4.0.4 Ice Cream Sandwich, though it has been heavily modified by the latest TouchWiz UI from Samsung.
Before we delve into the details, we present you with a short video demo of the new interface:
The interface bears a strong resemblance to that of an ICS-running Galaxy S II (no surprise here), though Samsung did update the lockscreen to make it fit better with their nature-inspired design for their latest flagship.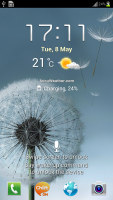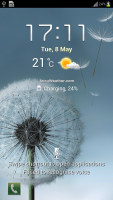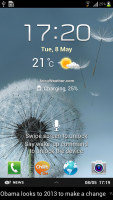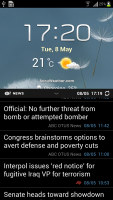 The lockscreen packs a ton of new functionality
The lockscreen no longer draws a circle around your finger, so you don't have a visual cue how far you need to drag your finger to unlock the phone. Still, there's a water ripple effect as you drag accompanied by a watery sound, which certainly looks great.
You can also enable a news ticker at the bottom of the lockscreen, which is a great way to stay up to date on current events. You can also drag the ticker up to view all news items at leisure.
We're not done with the lockscreen - there are four shortcuts at the bottom that can be used to quickly jump into an app. Since there is no circle to drag them into, you just swipe them up. You can, of course, customize which shortcuts reside here.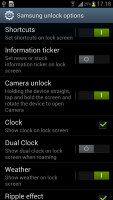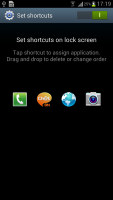 The lockscreen has extensive customization options
There's one more trick - you wake the phone (tap the power button or the home key), then press and hold the screen and rotate the phone horizontally. It will unlock and start the camera as soon as it's in the right orientation to snap a photo.
The dock at the bottom of the screen seized the opportunity to accommodate another shortcut - the bigger screen now fits five custom shortcuts or folders. The rightmost one opens the app drawer as usual.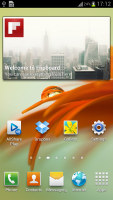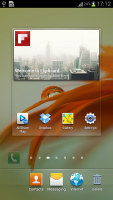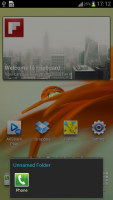 The dock at the bottom of the screen now has four customizable shortcuts
Speaking of the bottom of the screen, you'll notice that there aren't any on-screen control keys - Samsung decided to stick with their traditional hardware Home button flanked by capacitive Menu and Back buttons.
The notification area shows the same number of toggles as before - five - but one of them has been replaced. You get Wi-Fi, GPS, Silent mode, Screen rotation and Power saving (which replaced the Bluetooth toggle).
That's quite deliberate - Ice Cream Sandwich comes with Android Beam, which leverages on NFC to sending files, bookmarks and links a breeze, and the Galaxy S III enhances that functionality with S Beam - it does handshaking over NFC, but switches to Wi-Fi Direct to make transfers very fast.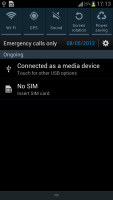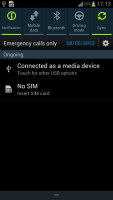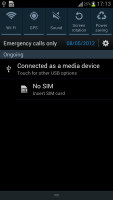 The notification area has more toggles
Anyway, there are five more toggles just off screen. You can scroll them sideways to reveal more functions - Notifications (toggles icons in the top row of the screen), Mobile data, Bluetooth, Driving mode and Sync.
Even though the dock at the bottom fits five icons, the homescreen and the app drawer fit only four on a row. However, there are now five rows in the drawer so you still get more shortcuts per page.
Following the ICS convention, the app drawer has a tab that lets you pull out widgets to the homescreen easily. This wasn't available on the ICS-running S II.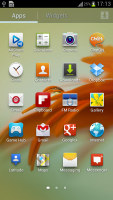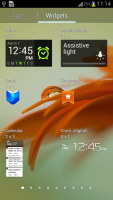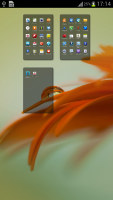 The app drawer houses both app shortcuts and widgets
Once you get several apps running, you can use the task switcher to go back and forth between them. It's an ICS-style vertical list with a screenshot and a name for each app. Swiping an app sideways removes it from the list.
There's a button on the bottom of the list to bring out Samsung's home-brewed task manager as we saw on the updated Galaxy S II, but now there's also a second button, which lets you remove all items of the list.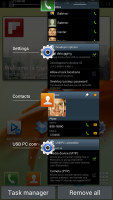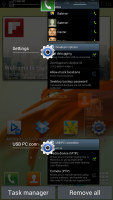 The task switcher has two custom buttons courtesy of Samsung
Let's go back to the homescreen and the widgets. Ice Cream Sandwich comes with various widgets and Samsung added more still. Some widgets are resizable too - a feature we've seen in some custom UIs is now available natively in ICS.
As usual, you can pinch to zoom out and easily manage homescreen panes - add, delete (but you can't have more than seven) or just rearrange them.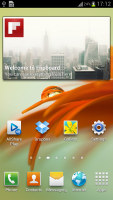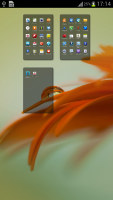 You can have at most 7 homescreens

Synthetic benchmarks
Benchmark Pi is a simple single-threaded benchmark, so we know what we can expect from it. The Galaxy S III falls behind the HTC One S and its brand new Krait cores, but it gets pretty much the same result as the HTC One X and its four Cortex-A9's even though those are clocked 100MHz higher than the Galaxy S's.
Benchmark Pi
Lower is better
Sort by Label

Sort by Value
HTC One S

306

HTC One X

338

Samsung Galaxy S III

344

Samsung Galaxy Note 10.1

351

Samsung Galaxy Nexus

408

Samsung Galaxy S II

452

Sony Xperia S

536

HTC Sensation XE

583
Linpack offers multithreaded benchmarking, making it essential for testing quad-core beasts. The Samsung Galaxy S III managed to outpace all phones but the HTC One S. It even beat the One X even though it should have been a bit slower (again, 4x Cortex-A9 @ 1.4GHz for the Galaxy S III vs. 4x Cortex-A9 @ 1.5GHz for the One X).
The benchmark had some issues with Ice Cream Sandwich, so what we're seeing here might be due to Samsung's software getting along with Linpack better.
Linpack
Higher is better
Sort by Label

Sort by Value
HTC One S

210

Samsung Galaxy S III

177.1

HTC One X

126.1

Samsung Galaxy Note 10.1

90

Sony Xperia S

86.4

Samsung Galaxy S II

77.6

Samsung Galaxy Nexus

77.1

HTC Sensation XE

50.4
Quadrant is a composite benchmark (it tests CPU, GPU and I/O). The Galaxy S III easily got top score here, having a nice lead over the HTC One S and One X in terms of general performance.
Quadrant
Higher is better
Sort by Label

Sort by Value
Samsung Galaxy S III

5365

HTC One S

5047

HTC One X

4842

Samsung Galaxy Note

3531

Sony Xperia S

3173

Samsung Galaxy S II

3053

Samsung Galaxy Nexus

2316
The Samsung Galaxy S III relies on a Mali-400MP GPU, though the exact details (number of cores, clock speed, etc.) are still to be revealed. It has a 720p screen to fill with pixels (up from WVGA on the S II), so we were curious to find out how it fares.
NenaMark 2 shows much better performance compared to the NVIDIA GPU inside the Tegra 3 chipset that the HTC One X uses and it even beats the new Adreno 225 inside the One S (it's important to note that the One S has a qHD screen). The Galaxy S III shows the best 3D performance of a droid phone yet.
Note that older Samsung models used to have a 60fps framerate maximum set in software and we're not sure yet if the Galaxy S III is running into such a limit, artificially lowering its score (NenaMark reports the results in FPS).
NenaMark 2
Higher is better
Sort by Label

Sort by Value
HTC One S

60.5

Samsung Galaxy S III

58.8

Samsung Galaxy S II

51.6

HTC One X

47.5

Samsung Galaxy Note 10.1

43.6

Sony Xperia S

37.5

Samsung Galaxy Nexus

24

HTC Sensation XE

23
GLBenchmark is available on iOS devices too, so it can give us some idea of how the Galaxy S III compares to the PowerVR SGX 543 GPUs. We're using the Egypt test in offscreen 720p mode so that results are directly comparable even though each device has a different physical screen resolution.
Still, the Mali-400MP inside the Galaxy S III beats both the iPhone 4S and iPad 2, which use SGX 543MP2 (at different clock speeds). The SGX 543MP4 inside the new iPad comes out on top though, but it does have a huge battery to back it up and even with a new manufacturing process, it might need to have its clock speed reduced when (if?) it's put inside a mobile phone (like the GPU inside the iPhone 4S is compared to the one inside the iPad 2).
GLBenchmark Egypt (offscreen 720p)
Higher is better
Sort by Label

Sort by Value
New Apple iPad

140

Samsung Galaxy S III

103

Apple iPad 2

90

Apple iPhone 4S

73

HTC One X

63

Samsung Galaxy S II

62

HTC One S

56
SunSpider is a JavaScript benchmark and as such isn't strongly affected by the number of CPU cores - it mostly reflects the raw performance of a single core and how optimized the JavaScript engine itself is.
Samsung seems to have done quite well here as the speed increase goes further than the 16% or so CPU frequency advantage that the Galaxy S III has over its predecessor. The S III is the fastest phone we've tested, beating other ICS phones and even the HTC One S and its Krait CPUs (which use a newer architecture than the Cortex-A9 cores in the S III).
SunSpider
Lower is better
Sort by Label

Sort by Value
Samsung Galaxy S III

1406

HTC One S

1708

New Apple iPad

1722

HTC One X

1757

Samsung Galaxy S II

1849

Samsung Galaxy Nexus

1863

Samsung Galaxy Note 10.1

1891

Apple iPhone 4S

2217

Sony Xperia S

2587

HTC Sensation XE

4404
BrowserMark adds HTML to the equation - behind the scenes JavaScript computation won't do much if the web page can't update fast and smooth. fortunately, the Galaxy S III tops this chart as well, and quite comfortably at that.
BrowserMark
Higher is better
Sort by Label

Sort by Value
Samsung Galaxy S III

169811

Samsung Galaxy Note 10.1

113256

Samsung Galaxy S II

111853

Samsung Galaxy Nexus

103591

New Apple iPad

103264

HTC One S

98435

HTC One X

96803

Apple iPhone 4S

88725

Sony Xperia S

74990

HTC Sensation XE

72498
8 MP snapper is improved
The Samsung Galaxy S III offers the same camera in terms of pixels but actually improves on the performance. It can capture stills with resolution up to 3264 x 2448 pixels and 1.9 MP ones with the front-facing cam.
The sharpshooter on the latest Galaxy offers geo-tagging, touch focus, face and smile detection and digital image stabilization. Due to the fast quad-core processor it is also able to simultaneously record HD (1080p and 720p) video and take near full-resolution pictures (those are cropped to an aspect ratio of 16:9 to match that of the videos).
The camera app interface is quite similar to the one on the Galaxy S II. You get two shortcut bars on each side of the viewfinder - on the right you get the still camera / camcorder switch, virtual shutter key and the gallery shortcut (which is a thumbnail of the last photo taken).
On the left you get several controls and the good news is that you can pick any five shortcuts to put there - you can easily put all commonly used features just a tap away.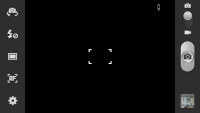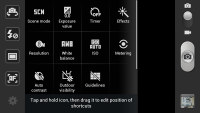 Samsung Galaxy S III camera UI
The Galaxy S III's sensor offers an F/2.6 aperture as opposed to the F/2.65 of its predecessor and a focal length of 3.7 mm contrasting with the 3.97 mm of the Galaxy S II. This results in a slightly wider viewing angle on the Galaxy S III compared to its predecessor, so you'll be able to fit more in your photos.
We've prepared a quick comparison between the two below. The Galaxy S III indeed offers slightly higher resolution, but it also tends to go a bit too far with the color saturation. The images are certainly looking punchier now, but also a little less realistic.



Samsung Galaxy S III • Samsung Galaxy S II



Samsung Galaxy S III • Samsung Galaxy S II
The dynamic range of the images produced by the Samsung I9300 Galaxy S III is pretty pleasing too and, despite the high saturation, noise is kept well under control. We'll need to do some more pixel-peeping before we can tell if the Galaxy S III is the best 8 megapixel camera out there, but it's certainly in the running.






Samsung Galaxy S III camera samples
Samsung was bragging left and right about the zero shutter lag of the Galaxy S III and we are happy to report that the smartphone is able to deliver. Pictures are captured extremely fast and there's even a burst mode available where you hold the virtual on-screen shutter and the phone will make 20 consecutive shots in just 6 seconds or so.
The good thing is that the images, produced by burst mode are in full 8 MP resolution. Samsung told us that the S III is actually capable of capturing full res shots at 3.3fps for much longer than that, but it has artificially imposed the 20 shots limit to prevent users from filling their storage with hundreds of identical shots.
Video recording is top notch
The Samsung Galaxy S III is able to record FullHD 1080p and HD 720p video hassle free. During recording you can also snap full-res 16:9 stills if need arises.
The camcorder interface is almost the same as the camera one - you get the same customizable panel on the left for up to five shortcuts.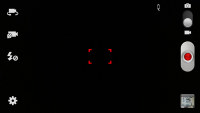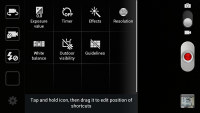 Samsung Galaxy S III camcorder UI
The videos themselves are incredibly smooth and offer a great amount of detail. The Galaxy S II was a great performer in terms of video capture but the S III seems to do even better, resolving even more detail and offering better color rendition. The video container used is mp4 and it creates clips with a bitrate of about 17Mbps with stereo sound recording.
The same goes for 720p videos. We can't help but think that Samsung could've put some of that extra processing might to good use and implement slow motion recording at 60 fps or something of the sort. The average bitrate of the 720p videos is 12Mpbs and they too come with stereo sound. In case you were wondering, you can also record 720p video using the front-facing camera.
This post sponsored by:

Dr Mobiles Limited

1 Huron Street,
Takapuna, North Shore 0622

Tel: (09) 551-5344 and
Mob: (021) 264-0000

Web

-

Map - Google+ - Email

-

Posterous - Tumblr -

Twitter

-

Blogger

-

Flickr -
Author